Skip to Content
Comprehensive High-Quality Dental Care
Dental crowns and bridges can help restore damaged teeth and replace missing teeth. These restorative dentistry techniques can help improve the strength, appearance, and functionality of your teeth. The dental bridges and crowns we provide are both durable and natural-looking. We match the colour of your bridges and crowns to your natural teeth to ensure a uniform appearance.
What Is a Dental Crown?
A crown is a tooth-shaped cap placed on a damaged tooth. Crowns can protect, cover, and restore a tooth's shape when fillings cannot. When your teeth lose their natural size or shape, dental crowns can help restore them to a natural-looking appearance.
What Is a Dental Bridge?
A dental bridge is a set of artificial teeth that can fill a gap in your smile. If you have multiple missing teeth, this cosmetic dentistry option may be right for you. A dental bridge can restore the look and function of your teeth. Generally, dental bridges are composed of crowns on either side of the missing tooth or teeth.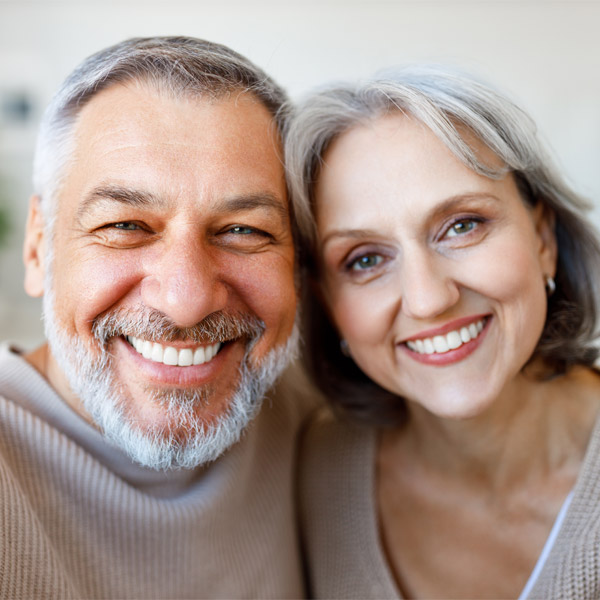 Signs You May Need a Crown or Bridge
If you're unsure whether or not you need a crown or bridgework, there are a few telltale signs that this may be needed. For example, you may need a crown if you have a cracked tooth (even without pain or other symptoms), sensitivity to bite pressure and temperature, deep decay, require a root canal, or have a filling that is breaking down. You may need a bridge if you are missing one or more teeth, or you have a removable partial denture but want a more permanent solution. Whether you need a crown or a bridge, our expert team can help.
The Benefits of Crowns & Bridges
Crowns and bridges are essential parts of cosmetic dentistry and offer a range of benefits, including pain relief and the opportunity to enjoy a long-lasting, beautiful smile. Dental crowns can reduce pain and sensitivity caused by a cracked tooth and can prevent cracks from progressing and/or damaging surrounding nerves. They also offer an improved aesthetic appearance for damaged teeth, can improve your bite, and reduce pain associated with temporomandibular joint (TMJ) disorder. Similarly, dental bridges can provide a more balanced bite, reduce the stress on adjacent teeth, make it easier to bite and chew food, help maintain the shape of the patient's face, and prevent adjacent teeth from shifting.
Why Choose Fashion District Dental?
We provide comprehensive, high-quality dental care in a safe, comfortable environment. Our dental care team understands that caring for your oral health is an integral part of your overall health care. You can trust our expert team to create a customized care plan that is based on your unique needs. With our proactive approach, we can treat minor issues before they become major, helping to ensure that you enjoy a healthy, beautiful smile for years to come. Because of our extensive experience with dental bridges and crowns, you can count on our professional team to provide you with the very best care for the very best results.
Contact Us Today for Crowns & Bridges
The dental team at Fashion District Dental has provided crowns and bridges for patients for many years. These restorative dentistry techniques can help improve the overall strength, appearance, and functionality of your smile. Your crown or bridge will be matched to the colour of your natural teeth to ensure a seamless and uniform look. Contact us today to schedule an appointment. We will be happy to help you determine if a crown or bridge is for you.