Skip to Content
Implants & Smile Makeovers
Single Tooth and Full-Arch Dental Implants
What are dental implants? You've probably heard the term a lot when people talk about crowns and bridges or other methods of replacing missing teeth. A dental implant refers to a titanium screw that is surgically planted in the mouth and acts as the root of a tooth.
Custom-made and –fitted crowns that look and act just like your natural teeth are permanently placed on the implant. Dental implants can be used to replace one missing tooth or up to an entire row of top or bottom teeth, which is known as a full-arch. This includes a procedure commonly referred to as "Teeth in a Day," which we offer here at Fashion District Dental. Dental implant surgery has become the most reliable and effective way to add natural, healthy-looking teeth in patient's mouths. Dr. Amlani would be happy to discuss your options for dental implants at our Toronto dental care clinic.
What Are the Benefits of Dental Implants vs. Other Methods?
Dental implants are a dependable method of replacing missing teeth and have many advantages over other dental surgery options such as bridges or dentures. Among the many benefits that come with having dental implants include:
Promotion of healthy jawbones
Since dental implants are placed in the jawbone, they prevent deterioration of your bone which occurs when you are missing teeth.
Implants are the most natural option
Dental implants are the closest option to achieve replacement teeth that function just like natural teeth. Patients can eat, drink, and brush with dental implant crowns as they always have and don't have to worry about them falling out.
No grinding of natural teeth
There is no change to your healthy teeth with implants. Bridges require grinding down of natural teeth so that the bridge can be cemented to them. Once teeth are ground, there is no getting back their natural shape.
No strain on other teeth
Partial dentures connect to existing teeth, which causes strain on those natural teeth that must support the dentures. Implants are integrated into the jawbone and are independent of your adjacent teeth.
They are long-lasting
Dental implants can last a lifetime, whereas bridges and dentures need to be replaced over time.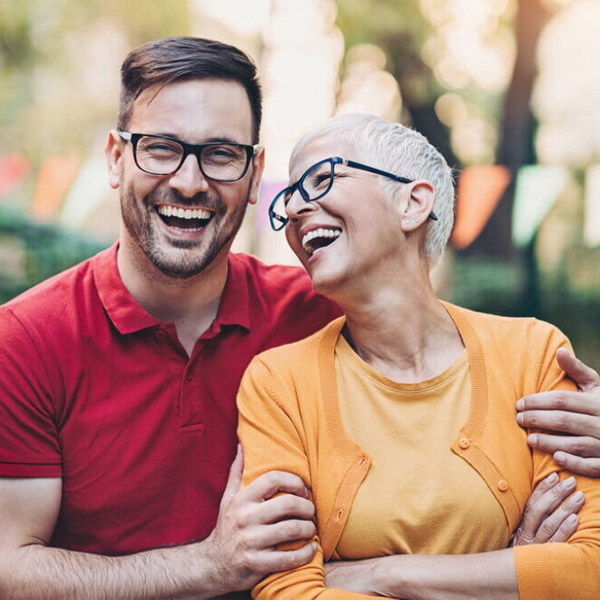 How Long Does It Take To Get Dental Implants?
Replacing missing teeth with dental implants is a standard procedure that can be performed right here in our office. The exact timeline from start to finish will depend on your unique situation and generally require multiple visits to our office and take a few months to complete. In some cases, dental implants and the teeth on them can be added on the same day. For the most accurate timeline, schedule a consultation at Fashion District Dental.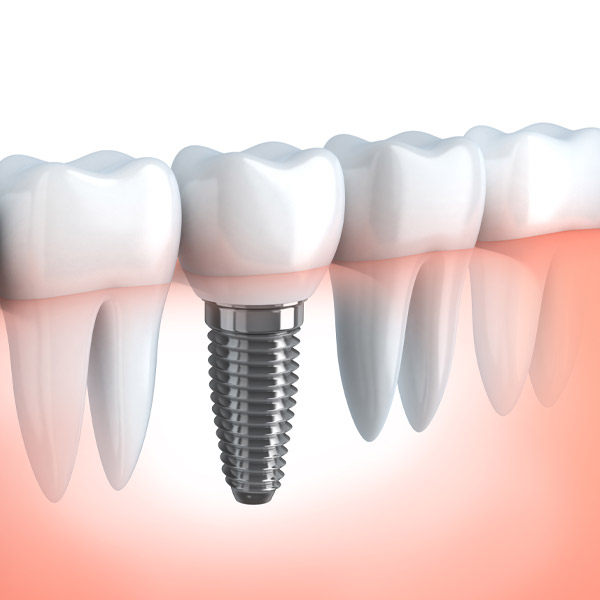 Who Is a Good Candidate for Dental Implants?
Through advances in dental surgery, dental implants have become the most reliable form of tooth replacement for patients looking to get back the full function of their teeth and mouth. If you have any missing, cracked, broken, or decayed teeth, you are very likely a good candidate for dental implant surgery. Even new patients who currently wear bridges or dentures can benefit from undergoing a dental implant procedure for more natural-looking teeth that are permanent and can last a lifetime. Thanks to more recent breakthroughs in the procedure, dental implants are now an option for patients who may not have been candidates in the past. At Fashion District Dental, we can provide a full assessment for any patient who wants to explore dental implants.
How Much Do Dental Implants Cost?
The cost of dental implants varies for each patient. Patients who only require one implant will pay less than a patient who requires multiple dental implants or a full arch. Other factors will play a role in how much dental implants cost, such as if any bone augmentation is needed. While you won't know the specific cost until you consult with a qualified dental implant practitioner, one thing you can count on is that dental implants will give you a set of full, healthy teeth that will boost your self-esteem.
Schedule a Dental Implant Consultation
If you're interested in learning more about dental implant surgery in the Toronto area, contact Fashion District Dental. We take great pride in building our patients' confidence by providing professional dental care services that create bright, healthy smiles. We're happy to consult with all patients and help you decide if dental implants are right for you!