Skip to Content
Invisible Invisalign® Treatment
What Is Invisalign®? Let Dr. Amlani Explain
Invisalign® is a brand of clear aligner offered by Fashion District Dental in Toronto, ON used to straighten teeth in place of traditional metal braces. Clear-aligner treatments like Invisalign® are nearly invisible, as the name suggests. Made from clear material, Invisalign® is a preferred choice for patients seeking straighter teeth, especially older patients who don't want to draw the attention of braces. Invisalign braces are custom-fitted to your mouth and provide a comfortable and effective orthodontic treatment to produce straight teeth.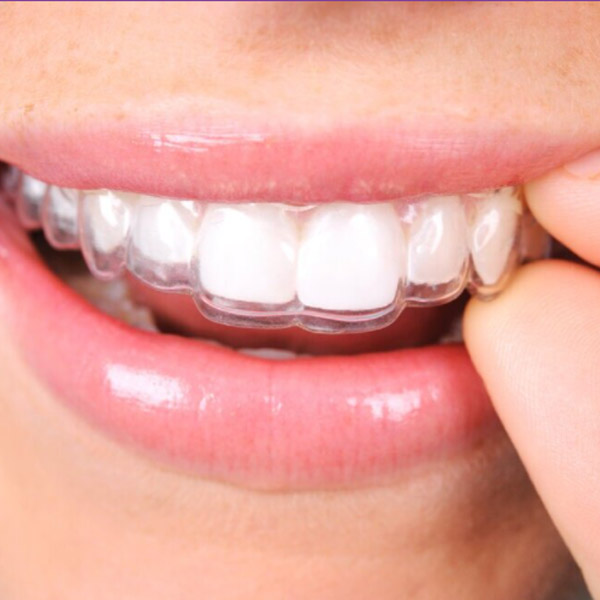 Am I a Candidate for Invisalign®?
Just about any patient, from teen to adult, interested in correcting crooked teeth is a potential candidate for Invisalign®. At Fashion District Dental, Dr. Amlani will provide a comprehensive screening for any patient interested in learning if they are a candidate for Invisalign®. Like many of our dental services, the results from Invisalign® are key to a brighter smile and building confidence, but straighter teeth will also improve a patient's bite. Correcting an overbite or underbite will prevent damage to teeth and gums by reducing wear on teeth, pain in the jaws and improving chewing and speaking.
What Oral Issues Does Invisalign® Fix?
Invisalign® treatment works to correct most dental issues pertaining to crooked teeth and bite problems. Whether your crooked teeth are the result of genetics, injury, oral disease, or even from sucking your thumb as a child, straightening your teeth not only gives you a beautiful smile, but it also helps to prevent wear and tear on your teeth and gum problems by correcting bite issues. Invisalign® clear aligners from Fashion District Dental can correct the following:
Crooked teeth
Protruding teeth
Gaps in teeth
Overcrowding
Mild overbites
Mild underbites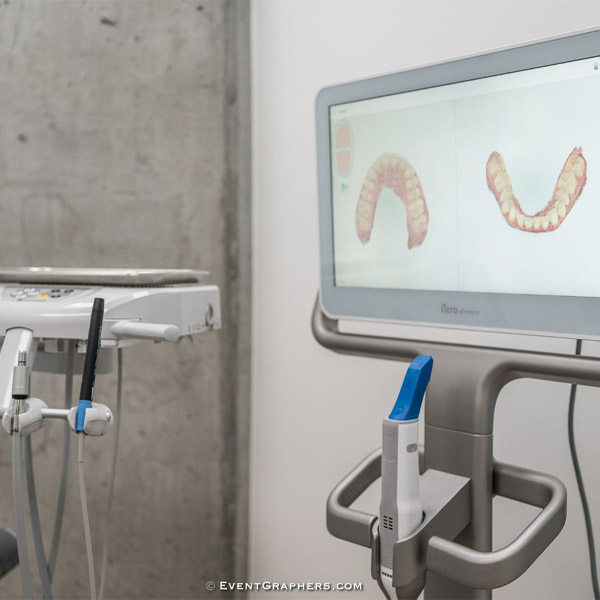 How Does Invisalign® Work to Straighten Teeth?
Once we determine if you are a candidate for Invisalign® clear-aligner treatment, we will make a 3-D model of your teeth using the iTero Element® 5D digital scanner and taking photos. Using these tools, we'll produce your custom-fitted Invisalign® teeth straighteners. Once available, the clear aligners will be placed on your teeth in our office at Fashion District Dental to ensure a proper fit. Invisalign® aligners are removable and should be worn about 22 hours a day. They can be removed when eating and brushing your teeth. We will check your progress every five to six weeks and outfit you with new aligners as your teeth straighten until you have beautifully straight teeth!
How Much Does Invisalign® Cost?
Patients in Toronto interested in Invisalign® for straighter teeth, are often curious about the cost of clear aligners. The price of Invisalign® will be dependent on the length of treatment and your specific needs. As every patient's mouth and teeth are unique, so is the process. Fashion District Dental works to keep the cost of Invisalign® affordable.
Schedule an Invisalign® Consultation in Toronto
Straight teeth add confidence, boost self-esteem, and give you even more reason to smile regularly. You're never too old to consider making a positive change to your teeth. With Invisalign® clear aligners from Fashion District Dental, you can make discreet improvements to your teeth without the discomfort of metal braces. Meet our professional dentist on Richmond St W today and schedule your consultation to find out if Invisalign® is right for you!