Skip to Content
Emergency Dentist Toronto
Emergency Dental Care in Downtown Toronto
Taking Care of Your Smile in Any Situation
We understand the stress of an emergency dental situation. Here at Fashion District Dental, we are prepared to handle your dental emergency no matter how minor or severe it may be.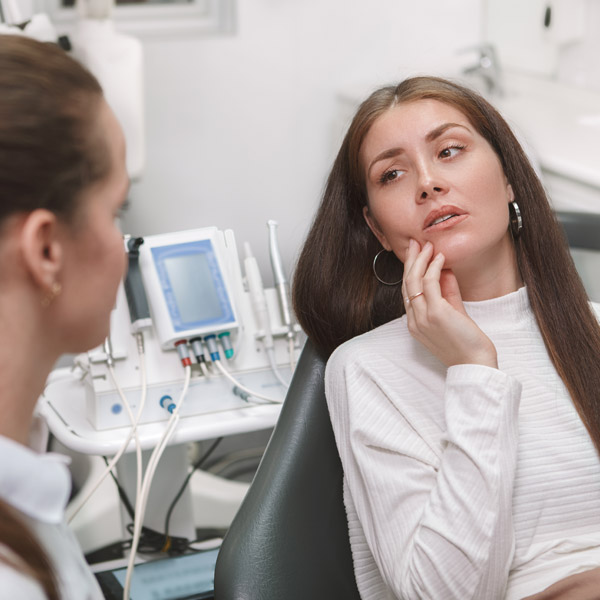 What to Do if You Have a Dental Emergency
Most people have never needed emergency dental work and don't know what to do when a dental emergency arises. We want you to know that you can call on us for complete dental care. In an emergency, it's best to pick up the phone and dial our number as soon as possible.
Our dental facility features the latest equipment so we can address all your emergency dental needs. You can even watch Netflix or listen to your favorite music when you come to us for dental services. We make it a point to keep you as comfortable as possible because we know how distressing it can be.
If you do find yourself in an emergency dental situation, call us immediately. We can handle any dental emergency, so don't hesitate to call us!
How Do You Know You Need Emergency Dental Help?
Some dental problems require immediate attention, while others can wait for an appointment. Here are some tell-tale signs that you may need emergency dental help:
Pain in the Jaw
Jaw pain can be caused by TMJ (temporomandibular joint) disorder, a dental abscess, tooth decay, or by grinding your teeth in your sleep. If you are experiencing constant pain in your jaw, you may need emergency care as it could be a sign of an abscess that should be taken care of immediately.
A Knocked-Out Tooth
If one or more of your teeth have been knocked loose in an accident of any kind, you should seek emergency dental help immediately.
A Loose Filling
If you have lost a filling or your filling has become loose, tooth decay may be the culprit. The filling may simply have become debonded. The problem should be addressed as soon as possible.
Tooth Pain
A toothache can be caused by a severe cavity, a nerve that has become infected, or a broken tooth.
Face Swelling
Swelling in your face can be a serious problem. It could be that you have developed an infection in your gums, teeth, or jawbone. Dental infections of this nature can spread to other parts of your body and become life-threatening.
Emergency Dental Care Clinic and Emergency Dental Services in Toronto
If you live in or around the downtown Toronto area, we want you to know that you can rely on us for all your emergency dental care needs. We make it a point to educate our patients and help them every step of the way. When you call us, we will help advise you on what to do at the moment and how to prepare for your visit.
When you arrive, you will be taken care of right away. We take your dental emergency seriously and will go above and beyond to make sure you get the care you need in a safe and comfortable environment. Don't leave anything to chance. Call us immediately for emergency dental care in downtown Toronto!